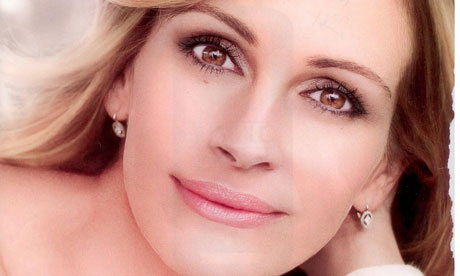 Yes it was all over the news yesterday that the L'Oreal ad campaign with Julia Roberts and Christy Turlington was banned in the UK. Why? The images of both supermodels were overly airbrushed…and then some! UK MP Jo Swinson who lodged the complaint has long been protesting the "overly perfected and unrealistic images" of women in advertising and I say good on her! Not only do these images portray unrealistic images of women but they are also bring into question the integrity of the company promoting the products. If we can't trust the company creating the ad, can we trust the product? Does it actually do what it claims to? What product gives you the skin of a 21 year old (unless you are in your 20′s) or lengthens your lashes so much you look like you have a genetic defect! None that I can think of. Yes cosmetics can have great effects but to expect to return to the dewiness of our youth is unrealistic.
But more about body image…
Many a time I have read through a women's magazine only to feel slightly down afterwards. When I finally realised that I was feeling inadequate when compared to perfect images of perfect women, I stopped reading them and then examined my thinking. What finally popped out the end of that thinking process is that I actually feel ok about myself despite the fact I will never match the images portrayed and perpetuated in women's magazines. It did take a while…oh about 35 years!
At this stage I would like to say that some cosmetic companies are keeping it real. Dove has long been supporting the realistic portrayal of women in advertising. I can't say I love their product ingredients but I applaud their efforts with body image. If you haven't seen it already this is a fascinating look at what happens to create the images we see around us: Dove Evolution
I would love to hear your thoughts on this so please comment and let us all know what you think.